CSProductions
Product Line

(not only) blue
Signed Magazine Issue


As a perfect introduction to his fine art photographic work, or compliment to any existing collection, this August 1999 issue of (not only) blue magazine features a 10 page gallery of male nude imagery by Chuck Smith. "Emotional Rescue" is the title leading a 1 page interview and profile, followed by 9 pages of individual, mostly full page, black & white images beautifully printed in 4-color process with soft warm tones.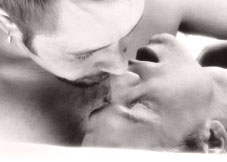 We have a limited number of copies available at the standard single issue newsstand rate, and back issues of this magazine have risen to well over twice their original retail price. Our copies are individually signed by Chuck on the interview page of his gallery.

Superbly reproduced and progressively designed cover to cover, 9 1/2 X 12 3/4" format with 116 pages of quality, each of our signed issues of the August 1999 (not only) blue magazine is priced at $15.00. Item # Blue22.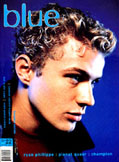 © Studio Magazines Pty Ltd.
(not only) blue cover image
used by permission.
(not only) blue is a visually stunning, superbly produced popular culture and visual arts magazine that specifically targets gay men and women.

Published in Australia by Studio Magazines Pty Ltd., (not only) blue is a cutting-edge expression of a vibrant culture. Subscription information can be found in the magazine.